Jewish Curriculum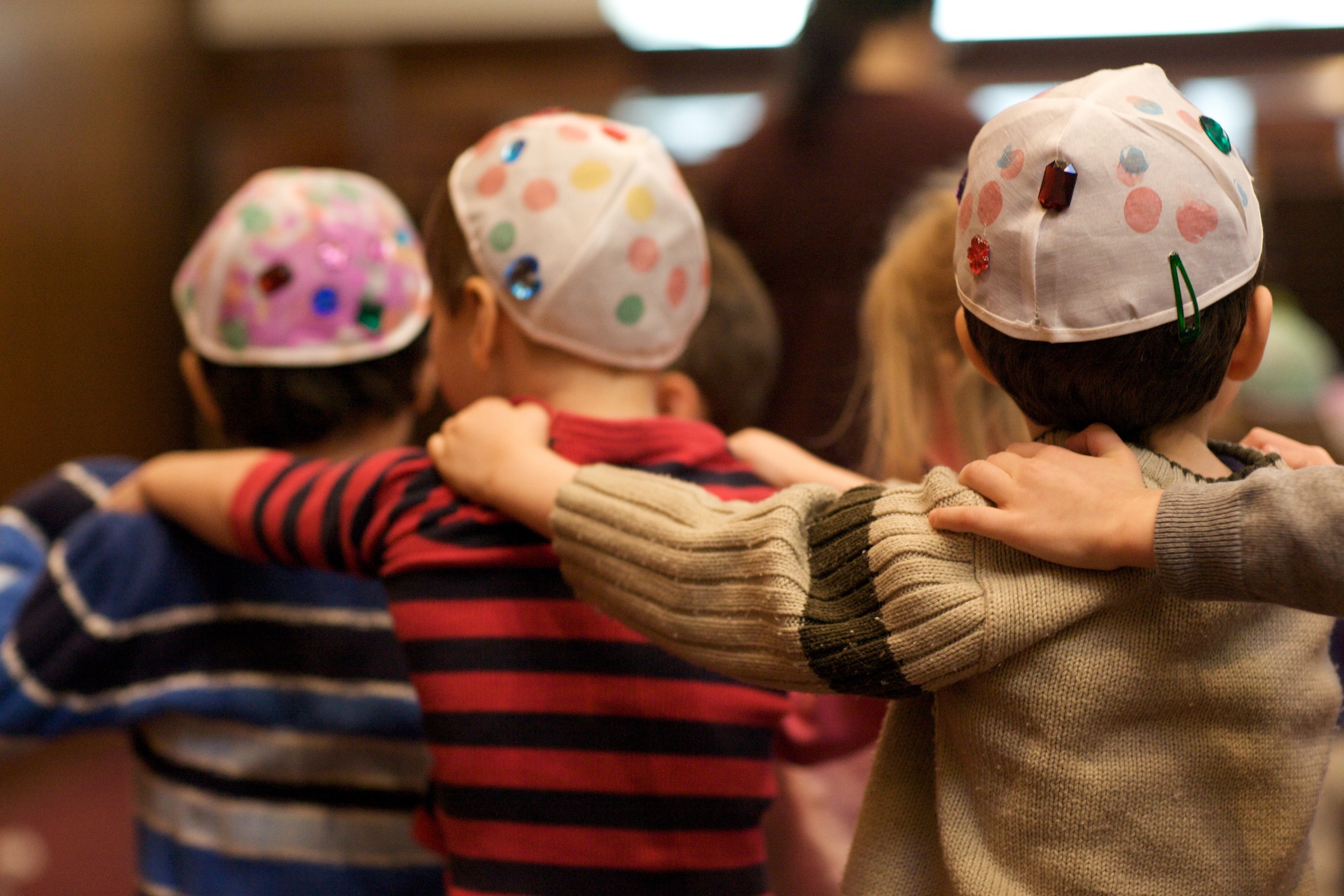 Developing Jewish Identity
Jewish values, culture, and learning are deeply integrated into the curriculum of our school. While we are a conservative synagogue, we welcome families from all Jewish backgrounds, and ensure that all feel welcome, including interfaith families. We hope the rich mosaic that is modern Jewish life on the Upper West Side will inform and enliven the daily life of our school.
Each week, we provide our children with special opportunities to participate in the customs and celebrations of the Jewish religion that help them begin to develop a sense of their Jewish identity.
Every Friday, parents take turns coming to Habonim as the invited guest(s) for Shabbat, joining the class in lighting the candles and saying the brachot over candles, grape juice, and challah.
Parents from each class who have come to school for their children's class Shabbat observance that day are invited to join in Rock Shabbat, the in-school celebration with Rabbi Gelber and Cantor Bruce (Orange, Purple, Blue and Red Rooms) that takes place every Friday in the Sanctuary.
In our ongoing efforts to involve families and provide opportunities for connection, Rabbi Lisa Gelber periodically hosts a Bagel Breakfast for Nursery School parents after drop-off. Sometimes, the gatherings focus on a specific theme like preparing for the holidays or how to talk to children about God, and others simply provide a relaxed opportunity for families to connect with the clergy and with one another.
Throughout the school year, Family Shabbat dinners are scheduled for each class at Habonim, with the clergy, classroom teachers, and Nursery School Director. The entire family is invited to attend, as the children in the class lead the blessings and sing a special Shabbat song. These dinners are held in Habonim's Social Hall, and provide a wonderful opportunity to create community!
And, of course, holidays are a perfect time and way to celebrate the joy of being Jewish with young children. We teach children about the holidays through art, music, cooking, tasting, reading books, and becoming familiar with and learning the brachot. The story of each holiday is told in an age-appropriate manner, which means that we sometimes make edits for young ears!
Here is a taste of the many ways in which we observe holidays throughout the year:
For Rosh Hashanah, we dip apples in honey and blow the Shofar and go apple picking. On Sukkot, we decorate a model Sukkah in each classroom, as well as the Synagogue Sukkah where we enjoy our daily snack. At Chanukah each child makes a menorah, we learn about the Olive Press, and the brave Maccabees. We light the menorah with the shamash and make and eat latkes at our class Chanukah parties for children and their parents. We observe Tu B'Shvat with a Seder in every class at which the children celebrate the birthday of the trees and taste foods grown on trees in Israel. Passover is celebrated with a school-wide Seder and the learning of the Four Questions. Our older children take a special trip to the Model Matzoh Bakery where they learn to make matzoh themselves. Purim is a fun-filled and busy time, as we make groggers, costumes, and hamentaschen to eat. And on Yom Ha'Atzmaut, we make Israeli flags that we proudly wave as we parade in celebration of the birth of Israel.
The result is the beginning of a dynamic understanding and appreciation of Jewish life!
Sat, June 3 2023 14 Sivan 5783